Mineral Insulated Thermocouples & RTDs
A Mineral insulated cable (MI cable) is a specialized type of cable used in high temperatures or harsh environmental conditions because it has low flammability, even when operating at high temperatures. It resists oxidation and enables precise measurement.
The metal sheath that clads MI cable helps to protect the thermocouple wires from oxidation when used in chemically active or wet environments. Corrosion resistance makes mineral insulated cable ideal for use in areas where failure and replacement could be dangerous or even impossible. For example, MI cable is used in nuclear plants to monitor core temperatures.
The mineral fillings in MI cables provide excellent non-reactive insulation, preventing the thermocouple wires from contact with each other or with caustic substances such as oils, solvents or water. This helps to ensure that the thermocouple probes remain accurate, critical in applications such as heat treating or sintering where the quality of the product could be adversely affected by temperature fluctuations.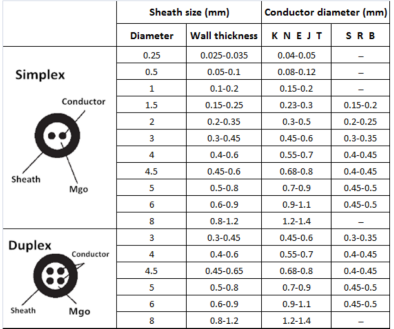 Configurations: Simplex, Duplex, Triplex
Sizes: 0.5mm to 8mm. Customized sizes upto 30mm on request.